ELGA BIOTECH is a premier management consultancy group focused on all aspects of healthcare including: Pharmaceuticals (Contract Manufacturing, API, Formulations etc.), Diagnostics (ELISA, Rapid Strips, DNA Microarray, PCR etc.), R&D Sourcing and Outsourcing, Biotechnology or Biotherapeutics or Biogenerics, Clinical Research, Medical Equipment and Instrumentation.

Genei Laboratories Pvt. Ltd. develops and produces an array of high-quality, affordable lifescience products.
Genei addresses your molecular biology, protein science reagent needs, along with kits for teaching and diagnostics. We also provide products from other producers, both international and domestic.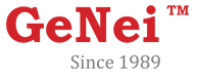 Quantumzyme has partnered with Gencrest to provide cutting edge solutions for lab scale validation, enzyme optimization and application services, and for industrial enzymes as well.
Gencrest offers enzyme optimization and application services with an unique platform technology and a state-of-the-art laboratory set up in USA.

Quantumzyme has partnered with Biochemize to serve customers for process development and technology transfer needs.
Biochemize S.L. is a biotechnology company focused on design and development of processes based on biocatalysis.